Guided Canoe Tours
Just forget about ordinary everyday life and get lost in your dream...
Here we go again – a peaceful weekend with a few days or an entire week ahead of us. With the sun shining on your shoulders, you can be sitting in a swaying canoe that carries you to faraway unexplored regions that promises you adventure. You will also feel adrenaline as you punch through rapids and waves and calm as you visually soak up cozy watermen pubs, magnifi cent castles, and look at the sparkling water.
Off the river your tranquillity will continue as we sit around the campfi re listing to melodic guitar tunes. Just forget about ordinary everyday life and get lost in your dream. Simply enjoy your time on the river with a group of good friends. You simply must be tempted! You can experience so much while canoeing on well-known rivers! Get acquainted with the Czech phenomenon, when thousands of Czech people desert their offi ces, stores, machines and schools every summer in order to indulge themselves in the lovely countryside.
GENERAL INFORMATIONS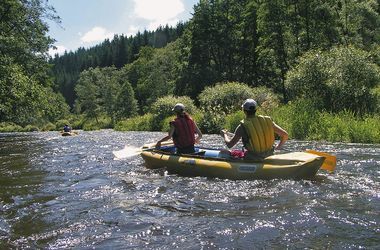 Our experienced instructors conduct all trip tours. At the beginning of the rafting trip they will give you a safety briefi ng and explain how to use all the equipment. Daily stretches range from 15 to 25 km. Sazava's highest degree of diffi culty is Class WW1. There is a chance that you may have to swim. Participants must be able to swim! Children 12 years of age or more may raft without parental accompaniment, however, younger children must be accompanied by their parents.
Canoe programmes are organized for:

A) individuals and small groups (5 people or more) and transportation from Prague
B) bigger groups (15 people or more) with an agreed meeting place; we will meet your group on the spot where the sail starts. We offer transport from Prague/other place for an extra charge.
Maximum number of participants depends on the prior arrangements.
All programmes include:

• Individuals and small groups: meet at a prearranged location in Prague and transport to the starting point, return transport to Prague
• Bigger groups: meet at the starting point, the end of the programme at the end of the sail
• Sport-S provides 3-to-4 person tents and reserves camping lots
• Half-board
• Sport equipment rental includes boats, life jackets, paddles and dry bags
• Luggage or belongings transport during the trip
• Guide
Accommodation:

In camps and river campsites in two-, three- and four-person Sport-S tents with a double roof. Your own sleeping bag and mac is necessary! Accommodation in cabins, guest houses or hotels for extra money.
River campsite: scarcely equpped and usually situated in naturalreserves.
Camps: usually provide a higher standard – hot and cold water, showers, sometimes refreshment, telephone. We are happy to set accommodation for you and your group in Prague before or after your trip.
Board:

The price includes half-board. Breakfast will be served buffet style at camp. Dinner is at the camp restaurant, where you can choose from a three course. Only breakfast will be served the last morning. The lunch is not included in the price but the participants can buy one on their own on the route. Drinks are not included in the price.
Transport:
Apart from transfers from Prague (other spots possible) to the sail starting point and back after the sail, we provide the transport of the sporting equipment and participants´ personal belongings throughout the whole sail.
Optional trips:
We can organize a visit to historical, cultural and technical monuments, such as castles, chateaus, monasteries and old breweries during the trip.
Hired equipment:
All necessary equipment will be provided by Sport-S. Reliable polyethylene canoes, either two- or three-seated with a seat for a baby to the age of 10 in the middle are used. More stable two-seated infl atable canoes used especially to go down more diffi cult river sections and when the water-level elevates can be offered to beginners. In addition to the canoes, all participants receive paddles, life jackets and neoprene water boots. In case of cold and rainy weather water-proof jackets and neoprene pants are available. Tight barrels to keep personal items in, and other sports equipment, such as volleyball, soccer, pétanque and Frisbee, are available.
Insurance:
Insurance for the participants is not included in the price but can be provided on demand.
Questions:

If you have more questions about the trip please contact us.